March 2018 Spring Special!
It's been a long cold winter, get ready for spring with a Hot Stone Massage for $90!
Hot Stone "therapy" has been used for thousands of years as a means of improving the body's internal organs. There are no written records of their use but it is believed that the Chinese have used it for over two thousand years. Native Americans also used to heat rocks in a fire and place them on the body as a way of curing illness and disease. This is the basis for Hot Stone Massage today.
Hot Stone Massage can provide more than just relaxation and comfort. Some other benefits of Hot Stone Massage are:
improving circulation and blood flow

reducing pain and discomfort that can be created by deep tissue work.

helping ease pain from conditions such as arthritis and fibromyalgia

helping with insomnia by relaxing and de-stressing the mind and body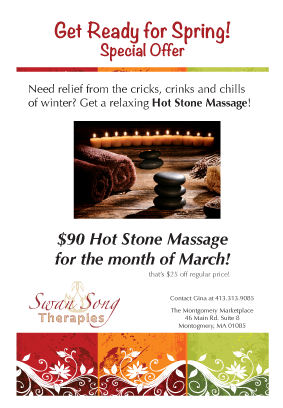 Schedule your appointment today!
Use this link to BOOK NOW! Please note that you will have to select "pay in person" to receive the special pricing of $90.
You can also text or call me to schedule your appointment, just mention this special. I look forward to hearing from you!
- Gina, LMT
SaveSave
SaveSave