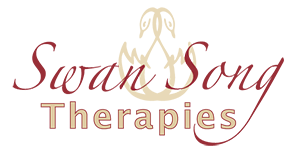 Let me help you find your balance.
---
What's in a name?
By definition a "Swan Song" is the beautiful legendary song sung only once by a swan in its lifetime.
I have been fortunate to cross paths with many wonderful people. They have taught me so much, and some have left this world much too soon. Having been blessed with their "swan songs", I understand the life changing power of such gifts. These gifts I carry with me everyday and strive to live my life as if each day were my swan song. I put forth my very best in everything I do.
Swan Song Therapies is my way of sharing these gifts and helping others by ensuring their bodies and energies remain relaxed and healthy. A healthy, relaxed body allows people to feel energized and therefore able to put forth their very best in everything they do. And so the Swan Song may continue...
- Gina
SaveSave
SaveSave
SaveSave